Channel.me

Channel.me powered by Dutch just zappspace.com released its first version of social community that allows its users to discuss the web sites they are browsing. They also provides jingling profiles addresses, e.g., london.channel.me. The concept is interesting, but the final implementation is still on the horizon.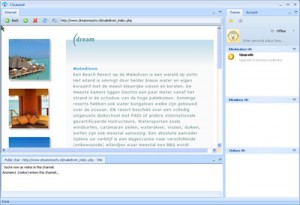 ChannelMe.TV, sponsored by Demand Media, uses a similar idea, trying to index the best of .tv web sites. The users can rate each site as well as provide information about the number of available videos, etc.
In this case, from the marketing prospective, channel.tv would be a better (certain.ly a shorter) name, but it is parked for the moment.
While .tv site is focusing on one top level domain only, channel.me has a potential to cover the whole Internet, at least its brand name is so much better than that of its super rival Yahoo! Now they need to receive at least the same backing from the industry as Google and Yahoo enjoyed some ten years ago.
Short link:


Copy - http://links2.me/~xmE1$Ag