My World. My Style. My Ecco.
One of the best shoe designers Ecco has launched a massive advertising campaign: MY WORLD. MY STYLE. MY ECCO.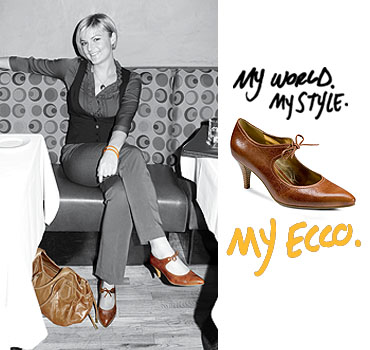 Not only they have good designers but marketeers and online team too. The web pages and outdoor advertisement is stylish indeed, and flashy too.
With ecco.com, eccousa.com, eccocanada.com, ecconet.co.uk, ecco-shoes.com.mt and so on, the brand is a bit overstretch over the Internet. Their legal team could do better. Ecco.co.uk parked at Sedo as well as myecco.com and many others can be suited for trademark infringement. They simply display advertisement selling Ecco shoes. But never mind, let us leave it to bloody lawyers.
Back to marketing. What we can learn from this project is that having "My" and/or "Me" in your jingles real.ly drives the consumer. Straight association with the product, higher recall rates... Everything we marketeers dream of.
Let us allow a splash of creativity and go for a drill. Let us reshuffle the jingle and see whether we could do any better, for a new brand. So what about:
Like that like.no.other of Sony, but now a proper URL too. Jingles and web addresses - two in one, and for a good price indeed.

By the way, MyEcco.Me is still for grab, but it is not recommended to run for it. Why would you bother with corporate lawyers later on or kill a good names like Ecco.Me and MyEcco.com?
Better create your own brand, your own audience and try to secure MyBrand.Me while it is still available.
Crystal clear, replace MyBrand with any rising name, and think about it as the way to go. If you need a jingling domain, Brands-and-Jingles is the company to call.
Short link:


Copy - http://links2.me/~pjc1$8M