.ME celebrated 5th anniversary with 700,000+ domain names
To celebrate its first mini jubilee .ME registry came up with an interesting infographics and confirming it added another 100,000 domain names to its base.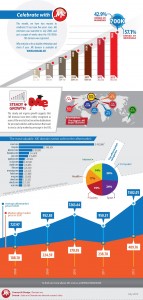 There is an interesting trend emerging that every year the absolute growth is about 100k names. Meaning that by 2016 this short and sexy TLD will hit one million registrations.
Fingers crossed it can beat more records in the years to come.
Short link:


Copy - http://links2.me/~yUR2$gR