Social.me
Social Me is a fan club with some 50K+ supporters (as of 11th of December 2008) on Facebook.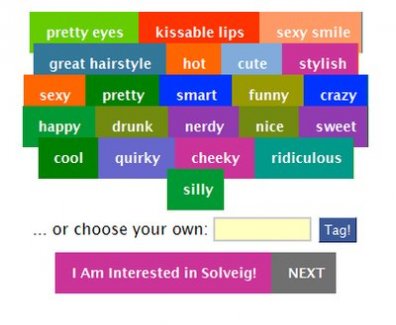 However, despite been a great initiative they lack the website. All they came up with so far was:
http://Being
http://unable
http://to
http://have
http://website
http://you
http://can
http://still
http://join
http://the
http://SOCIAL
http://ME
http://ADDICTS
http://group!!!!
Domain social.me was not a premium .me domain. It went for $2,215.00 after 52 bids during .me land rush auctions. However, the winning party probably didn't pay, so the domain went back to the registry. Now, we have to wait until it will be released again, most likely on the premium auction. In any case, the price tag will go up to $100K or more, as .me are becoming very popular and scarce too.
socialme.com, socialme.net, socialme.org, socialme.info, socialme.biz are all taken as all social.*** and even social-me.com and social-me.net.
Surprisingly, unsocial.me is still available on the prime market. Any one interested? But what do you do with it?
Socialist.me is gone to California and Republican.me and Democratic.me are taken too. The first may do well in France, the other will probably wait for the next US elections. Who knows?
Short link:


Copy - http://links2.me/~Gjd1$18